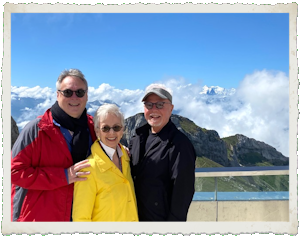 Jessie Jones, Nicholas Hope and Jamie Wooten, collectively known as JONES HOPE WOOTEN, enjoy the reputation of being three of the most popular and widely-produced playwrights in the United States. They specialize in writing laugh-out-loud comedies and creating vivid strong roles for women. Because of their commitment to and support of local theatres across the nation, they've built a following with legions of loyal fans and have been dubbed "America's Playwrights."

Between them, they've written classic television, hit movies, Off Broadway comedy and their plays are published by Dramatists Play Service and TRW Plays – Theatrical Rights Worldwide. Thousands of productions of their comedies - including their perennially-popular THE SAVANNAH SIPPING SOCIETY, DEARLY BELOVED, CHRISTMAS BELLES, THE RED VELVET CAKE WAR, ALWAYS A BRIDESMAID and many more - have entertained millions of theatre-goers across America, as well as in Canada, Denmark, Japan, Netherlands, Australia, Germany, Ireland, Mexico, the Virgin Islands, England, Taiwan, France, Sri Lanka, South Africa, Scotland, Belgium, Panama, New Zealand, Bulgaria, Ecuador and Kenya.
Jessie Jones co-authored the Off-Broadway comedy, DEARLY DEPARTED and its hit feature film adaptation, Kingdom Come, released by Fox Searchlight Films. Her short stories have been published in literary journals and she has written scripts with projects at ABC, Lifetime, WB, TNT, Paramount and an animated series for Walt Disney Productions.
Nicholas Hope, winner of the Texas New Playwrights' Award, was Director of Casting for Theatre Communications Group in New York, The Goodman Theatre in Chicago and ABC Television in New York and Los Angeles. With Jessie Jones, he wrote for the Emmy-winning Disney television series Teacher's Pet. Together with Jones and Wooten, Nicholas wrote for USA, WB, UPN, SYFY, Nickelodeon and Fox.
Jamie Wooten was a writer and producer for many seasons of the classic television series The Golden Girls, where he won the Writers Guild of America award. He co-created the CBS series, The Five Mrs. Buchanans, and was the executive producer of the Fox comedy, The Crew, NBC's For Your Love and UPN's Half & Half. A Billboard Award-winning songwriter, Jamie has written tunes for television and film.
Between them, Jessie, Nicholas and Jamie have written for an astonishingly diverse roster of performers, including Nathan Lane, Whoopi Goldberg, Betty White, Jack Black, Debbie Reynolds, LL Cool J, Harvey Korman, Tim Conway, Tyne Daly, Bea Arthur, Louie Anderson, Taraji P. Henson, George Burns, RuPaul, Dolly Parton and many, many more.
Celebrating Over 7,700 Productions
and More Than 50,000 Performances!